I am linking up today with the ladies for Five of Friday!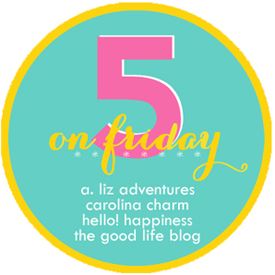 :: one ::
Today we woke up to some Fall weather and it makes my heart so happy! Our forecast for the next week looks pretty promising for the weather to stick around. This excites me because it means more trips to the park during the day and long evening strolls when hubby gets home from work! (my favorite!) I used to LOVE summer, but with each year that passes, I seem to get over the hot weather very quickly. But don't worry, I'm not a fan of pumpkin or spice lattes, so I won't be blowing up your twitter, IG, or facebook with all that ;).
:: two ::
I wish y'all could feel my EXCITEMENT for this.... I get to see Kari Jobe in concert on Sunday!! I first discovered Kari about 4 years ago while browsing the Christian bookstore for a new CD and I have been a huge fan every since! When we lived in St. Louis, I would (non-creepily) stalk her website in hopes that she would have a show in the area, but never did. I found out she did play in the area about a month after we moved back to NWA and was very bummed! So when I found out she would be playing here I did a happy dance and told my husband he is on baby duty that night!
Cannot wait for a night of worship with the beautiful Kari Jobe !
:: three ::
Have y'all seen this video? Grab a tissue or two.
And also, I am obsessed with the song!
:: four ::
KM turns 1 in one month and 8 days. I am not okay with this. We started planning her party about a month ago and had her invites done about 2 weeks ago. I was SO excited when we started the planning, but now I am getting more sad about it the closer it gets. I know that EVERY parent says this, but it is so REAL... Time goes by SO FAST! Reddell and I were looking at pictures of her from when she was a newborn last night and I just cried and cried.
But as sad as it makes me see how fast my baby is growing, I am so proud of her and it is the biggest blessing to be her mommy. Each day that passes she learns more and more and we love to see her personality develop. She is so much fun.
And even though the thought of her turning a year old makes me sad, I am SO excited for her birthday party! We have some fun things planned and cannot wait to see it put together! :)
:: five ::
I am obsessed with the new iphone update! It is like I have a new phone!
And here is a little KMae photo for the day (or 2)... I would hate to leave you all without a picture of this preciousness ;)