I am linking up today with 5 on Friday!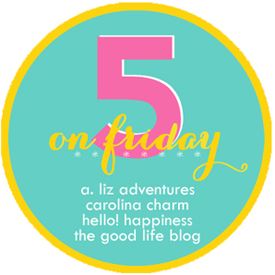 I am going to start making more of an effort to blog now! I have missed it, but I did enjoy a long break from it! Now I will need to learn how to squeeze in a little bit of time for me to sit down and write while trying to juggle the whole mom/wife thing. ;)
I love to write and journal and I think blogging is a great outlet and source to connect with others!
Speaking of the whole mom/wife thing... It's been a little over 9 months since I've had the mom title and you would think I would have this whole thing down by now. Let's see... I cannot remember the last time I have been on time somewhere, my house is always a disaster, I have (clean) laundry piled up in our room for days before I can actually get to it, and I swear I have lost my mind... that little thing called "mommy brain", whoa Nelly, that is serious business! I wouldn't trade this crazy new lifestyle for anything though. :)
I am SO ready for FALL! I know I am not the only one. I am over this Arkansas humidity! I don't even bother to fix my hair anymore because it will end up in a ponytail after stepping outside. Bleh.
I am ready for some football and some cool evenings to take (enjoyable) family walks!
We are going to Oklahoma this weekend to spend some time with R's parents and our nephew, who is a month younger than KM. I can't wait to get my hands on him. I love that Kyleigh Mae has a cousin so close in age. They will be best friends!
I miss St. Louis and I miss our friends in St. Louis. I was watching HGTV today and they had an episode of House Hunters in St. Louis. It made me sad, but I am also so thankful for the time we had there and the friends we made while living there. Reddell and I will always have a special place for St. Louis in our hearts. And we are excited to take KM and our future kiddos there for family vacations!
Hope y'all have a wonderful weekend!!