HAPPY FRIDAY!
I'm linking up with the ladies at 5 on Friday!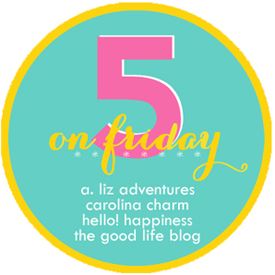 :: one ::
Monday was Veteran's Day, and if y'all follow me on Instagram or Twitter, I shared with y'all that my brother's best friend, Cpl. Aaron Mankin, was on the Today Show. He was apart of the week long segment they did called "Inspired By" or #inspiredby if you speak twitter talk. ;)
If y'all did not happen to catch this on Monday, please take a couple minutes and watch! I
promise
you will be inspired by Aaron and they also share about an incredible organization called
Operation Mend
.
Aaron says it best
"I will allow no one to dictate who I am... Beauty is who you are, not how you look."
I am forever blessed to know Aaron. He is like a brother to me and he has inspired me in more ways than I could ever say.
:: two ::
Kyleigh Mae has started giving me the BIGGEST, sweetest bear hugs and my heart literally melts each and every time. She usually does it right before I lay her down for bed at night time or before nap times and then again about 20 times throughout the day. And she giggles each time she does it. Seriously. I don't deserve this and I am so grateful. That girl is too much.
I am smitten with her.
:: three ::
I have always been a huge fan of Hillsong and Hillsong United (did y'all know that they are two different bands? Me either... until I bought tickets last year for a Hillsong concert and showed up and realized that they were not the same singers and musicians as the Hillsong United concert I went to a couple years ago). They are both from the same church (Hillsong) in Australia.
Anywho... I love all of their songs the same, and I am 100% convinced that heaven will be an eternity of Hillsong concerts (and oh em geeeeee, that excited me) hehe.
My current fave of theirs right now is of course their new one, Oceans, and if you have not heard this song I highly recommend you go find it and listen. It will bring you to your knees.
But another new (old) song I recently discovered is called "You Hold Me Now" and I have had it on repeat the last couple of days. This is a song I want played at my funeral. For real.
Love.
:: four ::
Do you all have IG? If you are not already, follow me
@BrittNolan14
And also, go check out my IG/Twitter friend's new online boutique on IG.
@southernandsimplyclassic
They have cute and affordable clothes!! I am anxiously waiting for my FLEECElined leggings (there is a lot of excitement in combining those two words!!) to come in the mail and a new sweater! Yes, please!
:: five ::
My mom took some family pictures last weekend. I shared a couple of these on IG this week... but I am seriously obsessed. How incredibly perfect is this?
And I am thankful my momma captured this one of my favorite little girl and me.
My cup overflows.
Thank you, Lord.